About
My name is Peter Wojcieszek and I am a technical illustrator. I create high quality illustrations to communicate technical content to a non-technical audience. In an ever-evolving world of technology, the need to communicate what you offer to your customers is more important than ever. As an illustrator my job is to help your customers see the value of what you offer in an easily digestible and visual manner.
I work digitally with Adobe Illustrator and Photoshop to create high quality cutaways, exploded drawings, how-to illustrations, and much more for a wide range of subject matter. My passion for music, architecture, and technology come together with a curiosity about how things work in order to inspire my illustrations. I am a Bachelor of Applied Arts honours graduate from Sheridan College specializing in technical illustration, and have worked in the field for over 9 years.
Process
In the process of creating any illustration, communication is the key to success. Success entails both ensuring that your idea comes across as clearly as possible to your target audience and that the work is done in a timely and efficient manner. Below is an overview of my work process to help you understand what to expect when working with me. This in turn will make for a more effective use of our time.
When you request a quote, please consider the two main factors which will have an effect on the price of your illustration. The first factor is how long it will take to complete the illustration. This will depend on the complexity of the elements as well as the amount of research that will be involved. By providing me with the details of what you would like to have illustrated as well as any reference material, I will be able to price your illustration more accurately. The second factor in pricing your illustration is the usage. How it will be used, where it will be used, how long it will be used for, and the size of the commissioning organization will all determine the usage fees for the illustration.
After reviewing your request, I will e-mail you a quote outlining the cost and schedule of the project. Upon acceptance of the quote, I will send you a written agreement which we will both sign, and a copy will be made available to you. Once the project is underway, we will begin the illustration process which is divided into three stages.
Stage 1 – Composition
The purpose of this stage is to develop a composition of all required elements in the illustration. I will provide you with a series of rough sketches with varying compositions from which you may choose one.
Stage 2 – Refinement
The purpose of this stage is to refine the details of the illustration. I will convert the chosen sketch into a clean line drawing, and you will have the opportunity to give feedback and request revisions. It is important to smooth out any issues at this stage as revisions made beyond this stage will take considerably more time. Two revisions are included with any illustration. Additional revisions may be requested at any time for an additional fee.
Stage 3 – Final Rendering
The purpose of this stage is to render the illustration in colour. I will render the approved line drawing and you will have the opportunity to give feedback and request revisions. Upon approval of the final artwork, you will receive an invoice for the balance of your payment. Upon receipt of payment, the artwork as well as a receipt will be sent to you.
Meet My Clients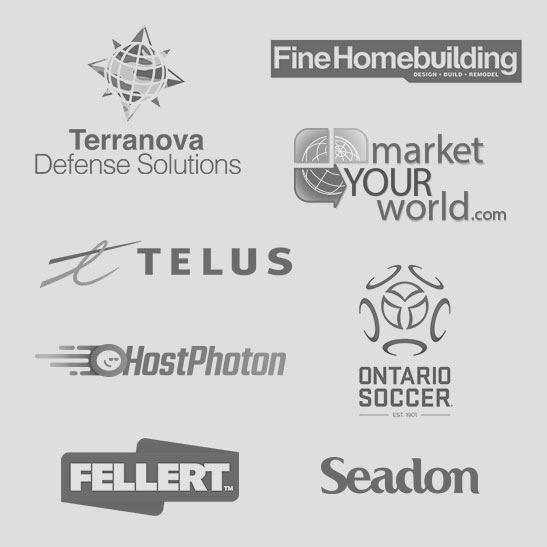 HostPhoton

Fellert

Zando Developers

Market Your World

Can Steam

D.A.L. Garage Door Repairs

PC Snow Removal

Prime Wood Flooring

Mississauga Therapeutic Massage

Radek Kowanski Real Estate

Seadon

SLK I.T. Solutions

Ontario Soccer Association
We had a concept for a specialty container and reached out to Peter to turn the concept into a design drawing. Another illustrator/design specialist might have simply done what was asked, however Peter posed several general as well as specific questions in order to flush out, not only what I thought we wanted, but also possibilities we had not thought of. The end result was a product design that was much better than my original concept. Regarding the work itself – High quality, on time, on budget, and as promised. We will be doing more business with this company.
– Roch Gagnon, Chief Operating Officer, Terranova Defense Solutions Inc.
Request A Quote
Please read the following form carefully and fill out as much information as possible. Your answers will help me understand your project needs, as well as determine the cost and schedule of the project. If you don't have all the answers at this time, no problem, we can always work out the details together.